There are numerous attempts to explain programming with recipes through to programming
chief
, an esoteric programming language look like recipes in the programs. Here, however, I would just like to introduce my favorite cake. A carrot cake that tastes so wonderfully juicy. The picture shows the cake I baked for my wife birthday.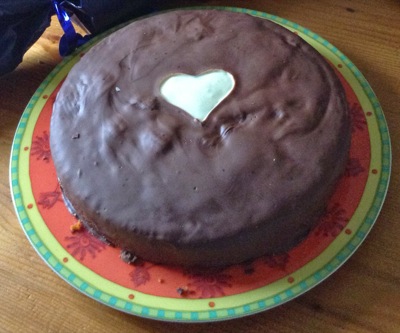 The ingredients:
250 g carrots
300 g ground almonds (or hazelnuts and / or coconuts)
300 g of sugar
5 eggs separated,
60 g flour
1 teaspoon of baking soda
1/2 lemon rind
1 pinch of salt
butter/margarine and crumbs for the form
Plating:
chocolate glaze with white and brown chocolate (see picture above)
or
sugar glaze
150 g icing sugar
1 tablespoon water
2 tablespoons lemon juice
The preparation:
Grate the carrots finely and then put them in a large bowl with the almonds, the salt and the lemon peel.
Separate the eggs and stir the yolks with 2/3 of the sugar until fluffy, at least add the flour with the baking powder.
Put together with the carrots and almonds.
The egg white should be mixed until stiff and stir, then add the remaining sugar slowly. The mass now carefully fold into the carrot / nut mixture.
Grease a mold and sprinkle with bread crumbs.
Fill the mass in a form and bake the cake about 50 minutes at 180° C (355° F).
Cover after cooling, either with chocolate or lemon frosting and decorate as desired.
Bon appétit.